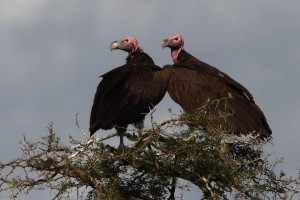 This experience will take you to  sites that are so much awesome for any birder who would love to spot variety of birds, among the destinations for Uganda birding safaris include hot highlight Semliki birding park with variety of birds, which is part of vast Ituri forest that habit unique rare bird life species, the Sebitoli-Kibale eco birding site, queen national park hub for wildlife and birdlife species, Bwindi rain forest with awesome birding sites like Buhoma and Ruhija, Mburo-Mpanga/mabira forest eco-safaris research science site with variety of birds, Lutembe bay wetland and Mabamba wetland birding site and later to Ngamba island for chimpanzee experience and birding along the shores of Lake Victoria.
Day 1: Entebbe-Semliki
Today after your breakfast from your hotel of residence, you will be met by our guide or company representative and exchange happiness to each other. Then transfer to western Uganda via Mityana-Mubende highway with some stopovers at Tanda village to experience its history and Nakayima tree then to fort portal town for your en-route lunch and then proceed to Semliki national park via Bundibugyo rift valley highway. The journey offers you beautiful sceneries of the mountains of the moon and plantations, arriving with en-route bird watching at the entrance of the park such as common scimitar bill, African grey hornbill, crested francolin, helmeted guinea fowl and many more. Dinner and overnight at Semliki Safari Lodge.  Meal plan: Half-Board.
Day 2: Semliki National Park
Early in the morning breakfast, thereafter with packed lunch set off into this Ituri forest for full day birding on the Kirumira trail or forest. This early morning birding rewards you with species like African scopes Owl, Pearl spotted Owlet and Night jars. The Forest being a home to some of the Congo biome species this birding will also reward you with birds like, African piculet, Zenkel, Red billed, Nkurengu rail, honey guide, Black chested cuckoo, red rumped tinker bird, Rufous sided broadbill, Green tailed bristle bill, White bellied, dwarf and Pygmy kingfishers, piping, white thighed, black and white casqued, and African pied hornbills, fire crested alethe, red bellied and blue billed malimbe, black wattled, black bill and white crested hornbill, swamp palm bulbul, forest scrub robin, Leaf love, red breasted sparrow hawk, and others. Return to lodge for dinner and over night and dinner.
Day 3: Semliki National Park

Early in morning after breakfast, with packed lunch to take on another birding trail on the main road Sempaya trail or the Kirumira trail, depending on the previous' day results. Return to the lodge for relaxation, dinner and over night.
Day 4: Sebitoli-Kibale Forest National Park
Today have morning breakfast, then transfer to Kibale National park- Sebitoli birding site which is recommended as the best birding site. Lunch at the park, Then take the birding trail Looking out for special birdlife species like, African black duck, Joyful, cabanis, Toro olive and Cameroon somber green buls, Brown and scaly breasted illadopsis, Green-throated Sunbird, Green-breasted Pita, African pita, -headed Sunbird, Brown-capped Weaver, Velvet-mantled Drongo, Bocage's Bush-shrike, Pink-footed Puff Back,  and many more. Dinner and overnight at Ndali Lodge, Kibale primate lodge or Chimp nest, Nyinabulitwa resort, Kanyanchu tourist centre. Meal plan: Full-Board.
Day 5: Kibale Forest National Park

 Have morning cup of coffee, after take guided birding trail in the Kanyanchu area and expect to spot out birdlife species like the African go-shwak, the majestic crowned eagle, masked apalis, grey parrots and many more. Picnic lunch in the forest and the afternoon visit to the Bigodi wetland sanctuary through the Magombe swamp to spot birds such as papyrus Gonolek, papyrus canary, mosque swallow and brown headed Tchagra and some animals like sitatungas, white and black Columbus, Vervet and red tailed monkeys and manageably. Return to lodge for dinner and overnight. Meal plan: Full-Board.
Day 6: Kibale-Queen National Park

After breakfast, drive to Queen Elizabeth National Park which is home to total of 604 different bird species. Reach at time for lunch, key species to spot are: African Skimmer, Black Rumped Button Quail, Verreaux's Eagle Owl, Red Footed Falcon, Lesser Flamingoes, and Saddle-billed Storks, and numerous classes of Raptors. Take afternoon boat ride for birding along the channel banks. Evening visit to Katwe Crater Lake to spot the flamingos as the sun is setting off and also experience the salt mining. Dinner and overnight at Mweya safari Lodge, Katara lodge, Hippo hill lodge or Simba safari camp or Ihamba safari lodge. Meal plan: Full Board
Day 7: Queen-Bwindi Impenetrable National Park

After breakfast, drive via the famous Ishasha Sector for tree climbing lions with birding experience and the search of the tree climbing lions those enjoy lying on the top of fig trees during the hot hours of the day. Later proceed to Bwindi National park best known for gorillas; lunch en route. Though the gorillas are its most famous inhabitants, Bwindi is also noted for its biodiversity and the richness of its flora and fauna. The diversity of birds in Bwindi National Park is extremely high, representing one of the forest's avi-fauna in Africa. The bird list for the park currently totals 334 species, 67 non-forest-dependent species, and 182 forest-dependent species. Thirteen of these species occur nowhere else in Uganda, seven are not known to occur anywhere else in East Africa, and 17 are known for East Africa only in Bwindi and one or two other East African forests. The rare species include the spectacular globally threatened endemics like the African Green Broadbill and Shelley's Crimson wing. Dinner and overnight at Gorilla forest camp, Mahogany springs, Ruhija gorilla lodge, Bwindi Engagi Lodge or Gorilla resort or Buhoma Community Tented Camp. Meal plan: Full Board
Day 8:  Bwindi Impenetrable National Park
Early breakfast, drive to Bwindi Impenetrable National Park, watch out for birds and game en-route reaching late afternoon. Have lunch at the park, then go birding Buhoma area. Dinner and overnight at Gorilla forest camp, Mahogany springs, Ruhija gorilla lodge, clouds lodge or Buhoma community Bandas (Budget). Meal pan: Full-Board.

Day 9: Bwindi Impenetrable National Park

After breakfast, enter into the forest on the water fall trail for birding. Look out for birds such as Kivu ground thrush, Mountain Buzzard, Cinnamon-chested Bee-eater,  Barred Long-tailed Cuckoo, Mackinnon's Fiscal, Sooty Boubou, African Hill-Babbler, Dusky Tit, Ashy Flycatcher, Dusky-blue Flycatcher,  Doherty's Bush-shrike, Black-and-white Shrike-flycatcher,  Chin-spot Batis, Rwenzori Batis,  Ayre's Hawk-eagle, white bellied Robin-chat and slender billed starling moving along the main track as you descend to the camp for lunch. In the afternoon move along the long trail to Bwindi for more birding. Return to lodge for Dinner and overnight. Meal plan: Full-Board.
Day 10: Buhoma Impenetrable National Park
After morning breakfast, go for birding on the long trail to Mubwindi and also the short trail in the afternoon. Watch out for birds like the Montane Oriole, Waller's starling, Blacke –billed turacos, barbets, Carruthers' Cisticola Red chested Flufftail,Cabanis's Green bull, Dwarf Honey guide, Oriole Finch and Bar tailed trogon. This bird search offers you an opportunity to view for gorillas too. Return to lodge for Dinner and overnight. Meal plan: Full-Board.
Day 11:  Ruhija sector
Dawn breakfast, go birding in the Ruhija area and spot out birds like the Red-tailed and Shelley's Greenbul, Grey-throated Barbet, Common Buzzard, Black Bee-eater and Cinnamon-chested Bee-eater, Red-throated Alethe, African Shrike-flycatcher Ayres's Hawk-eagle,  and many more. Return to lodge for dinner and overnight. Meal plan: Full-Board.
Day 12:  Lake Mburo National Park

After breakfast in the morning, drive towards Lake Mburo National Park via Kabale. Lunch in Mbarara, and then proceed to Mburo national park and take en-route game drive while birding along the road to Rwonyo in the afternoon take boat to spot out for acacia associated bird species like mosque swallow, black bellied bustard and Ruppell's long-tailed starling. Dinner and overnight at Mihingo lodge, Arcadia cottages, Mburo lodge and Rwonyo Rest Camp. Meal plan: Full-Board.
Day 13: Mburo National Park

Morning breakfast, take foot safari in the some of the rain forests in the park to spot birdlife species and this trip will informative as the guide is explaining more on floras, Avi, butterflies and faunas, return to lodge for lunch and again drive along the lake side track and Kigambira loop towards Kampala, spot out for birds like Green-capped Eremomela, Austral migrant, black cuckoo-shrike Tawny, African Hawk, then evening drive out lake Mburo to Mpanga forest with en-route stopover at the equator for life time memory photos and some edible snacks. Dinner and overnight camping at Mpanga eco tourism site. Meal plan: Full-Board.
Day 12: Mpanga forest-Buwama crocodile farm
Have breakfast and after enter into this forest reserve to spot various types of birds, primates, butterflies and more rare plant species for scientific research. Return to camp site for lunch and after we relax at Buwama crocodile farm but via the Mpambire traditional drum makers. Evening drive to Kampala for our dinner and overnight at Hotel Africana, Cassia lodge, Holiday Express hotel or Namirembe guest house. Meal plan: Full-Board
Day 13: Kampala-Lutembe bay birding tour-Mabamba wetland birding site

Enjoy morning breakfast at our leisure at drive to Lutembe bay  birding tour and here expect to spot various bird life species like Shoe bill, White-faced Whistling-duck, Fulvous Whistling-Duck, Goliath Heron, Purple Heron, Common Squacco Heron, long-toed Plover and African water Rail, Grey and Black Headed Herons, Striated Heron, Pygmy Goose, Yellow Billed Duck, Black Crake, Swamp Moorhen, Allen's Gallinule, African Jacana and you may spot animals like the Sitatungas and Antelopes. Thereafter drive to Entebbe and have your lunch and afternoon drive to Mabamba bay to experience canoeing as you spot unique birdlife species like woodland and garden birds. The House Sparrow which is Vagrant, Mosque Swallow (monteiri race), Weyn's Weaver, White Shouldered Tit, Little Swift, Sand Martin, Brown Snake-Eagle, Eurasian Hobby, Grosbeak Weaver, Blue-headed Coucal, Fork-tailed Drongo, Feral Pigeon, Flappet and Rofus-napped Lark, Long-Crested Eagle, Stripped Kingfisher, Common Stonechat, Common Greenshank, Little bee-eater, Whinchat, Grey Wagtail, Great Blue Turaco, Grassland Pipit, Orange Weaver, Northern Brown-throated Weaver, Tawny-flanked Prinia, Black-headed weaver, Slender-billed Weaver, Yellow-backed Weaver, Black Headed Gonolek, Ruppell's Long-tailed Sterling, Grey-Headed Sparrow, Spur-winged Lapwing, Yellow Wagtail, African Pied Wagtail and more. Return to lodge for dinner and overnight, Entebbe botanical gardens or Entebbe airport view guest house. Meal plan: Full-Board
Day 14: Entebbe birding site-Ngamba islands chimpanzee
Today after breakfast is reserved and you will be transferred to Entebbe water front club and visit Ngamba islands chimpanzee sanctuary to experience the feeding session and do birding along the shores of Lake Victoria. Return to Entebbe where you will have free entrance to Uganda wildlife education centre to view some big five caged and other animals and variety of birds. Lunch at Uganda wildlife education centre restaurant or at Entebbe botanical gardens birding places in uganda, after visit the botanical gardens to spot some birds like Ruff, Wood, Common, Marsh Sandpipers, Common Green Shank, Long-tailed and Great Cormorants, Madagascar Bee-eater, Green Crombec, Orange weaver, Golden and Yellow backed weavers, Superb sunbird, Bare faced go-away-bird, Ross's and Great blue Turacos, Grey and Brown Parrots, Palm Swift, Little Swift, Entebbe Weaver an endemic to Uganda birding tours that was recorded at the site only once, White spotted Flu tail among others as you wait your home Flight. End of services, Meal plan: Half-Board.
The safari package includes:
Transportation by a 4wd vehicle
Accommodation and meals as per itinerary
Park fees
Driver/professional bird guide.
En-route lunches
Game drives
Bird watching
Visit Mpanga forest and Buwama crocodile farm
Visit Lutembe and Mabamba bay
Visit Ngamba islands chimpanzee sanctuary
Airport transfers.
The package excludes:
Expenses of personal nature like: Visa, drinks, laundry, tips to local guides, telephone, personal insurance and cigarretes.