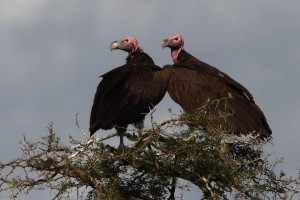 This tour will explore you to Uganda's best birding trails to spot various species of birds. We shall start our tour right from Entebbe birding sites like Botanical gardens, Uganda wildlife education center. Later trail to Mabamba swamp, and from here expect to spot the rare stork shoe bills, visit to the Tanzanian plains (Lake Mburo National Park), Bwindi park though much known for gorilla tracking this site hubs thousand species of birds and there are spotted from several sectors like Buhoma, Ruhija and Mubwindi swamp, visit to Queen Elizabeth National Park to spot savannah and water bird species from the panoramic boat cruise along the Kazinga channel and from Katwe Crater lake, visit to Kibale Forest block much known for chimps and bird species at Magombe swamp/ Bigodi wetland and visit to the Uganda's must see-Murchison Falls Birding Conservation Area. Expect to spot seasonal migrants and endemic birds, African Birds from several sites visited. Uganda birding tours, Uganda birding tour, Uganda birding safaris, Uganda birding safari, Uganda birdwatching, Uganda bird tours, Uganda bird safaris, birding places in Uganda, important bird areas in Uganda, Uganda birding adventure!
Day1: Entebbe Birding Excursion
Breakfast, after our professional birding guide will warmly welcome you. Thereafter have refreshment and take Entebbe city birding tour to the Entebbe botanical gardens, Uganda wildlife education centre. The following bird species can be spotted:  Great Blue and Ross's Turacos, Red Chested, Klaas's and Died rick Cuckoo, Great Reed, Grey Capped, Sedge, Greater Swamp and Eurosian Reed Warblers, Fain Tailed Widow bird, Striped, Malachite, Giant, Woodland and Pygmy Kingfishers, Black Bishop, Grey Woodpecker, Olive, Olive bellied, Red chested, Superb, Green Throated and Collard Sunbirds, Orange, Yellow Backed, Golden Backed, Slender Billed and Black Headed Weavers, Lizard Buzzard, Grey Kestral, Black Kite, Gabber Goshawk. Dinner and overnight at Entebbe botanical resort or Entebbe airport view guest house. Meal plan: Half-Board

Day2: Birding Mabamba-Lake Mburo National Park
Have breakfast, after early morning departure Entebbe city for Mabamba swamp and as trailing to this site enjoy en-route birding for Black headed Oriole, Black Bishop and weavers. At this very important bird area in our amazing local canoes we shall search for the rare Stork shoebill, Rufous Bellied, Goliath and Squacco Herons, Malachite King Fisher, Purple and Allen's Gallinule, Black Crake among others. Thereafter transfer to Lake Mburo National Park with Lunch en-route, stopover at Uganda's equator for snacks, memorable photo take and informative talks. As you enter take an evening game drive and expect to spot variety of open woodland birds. Dinner and overnight at Mihingo lodge, Mburo safari lodge or Arcadia cottages, Rwonyo Rest Camp. Meal plan: Full-Board
Day3: Birding Lake Mburo wetlands

Have an early morning cup of coffee, and thereafter take morning foot birding along the park trails with an armed ranger. This adventure not only exposes you to birds' interesting songs but there is also much chances to spot faunas and floras.  Return to lodge for refreshment and breakfast and thereafter take a game viewing and birding as well, here you have high chances to spot herds of faunas like the Zebras, Impalas, Elands, Topis, Buffaloes among others, for birds expect to spot the Red Faced Barbet, Coqui Francolin, Brown Chested Plover, Tabora Cisticola, Lesser Blue Eared Starling, Buff Bellied Warbler, Red Headed Weaver, Black Shouldered Cuckoo Shrike, Sulpher Breasted Bush-shrike, Greed Capped Eremomela, Bare faced Go-away-bird, Red Billed Wood Hope and more  acacia associated birds, in the afternoon we go for a boat ride in search for the African Fin foot, White Backed and Black Crowned Night Herons, Giant Kingfisher. Return to lodge for dinner and overnight. Meal plan: Full-Board
Day4: Lake Mburo-Bwindi National Park
After morning breakfast, take en-route drive with spot of more fauna and Avi species and after depart to Bwindi National Park, lunch en-route. Drive with panoramic view of winding vegetation as you reach at the park take birding around Buhoma for Handsome Francolin, Rufous-chested Fluff tail, Olive Long-tailed Cuckoo, Red-chested Owlet, Neumann's Warbler. Dinner and overnight at Buhoma lodge, Mahogany springs, Buhoma Camp or Bwindi view inn. Meal plan: Full-Board
Day5: Gorilla Trekking Uganda
After an early morning breakfast prepare for a briefing from the Uganda wildlife officials, after enter into the jungle to search or for your gorilla tracking in the forests of Bwindi. Gorilla tracking can be strenuous because of Bwindi's challenging terrain.  This activity is a full day memorable experience and therefore you will need to carry a packed lunch and drinking water, wear comfortable boots or sturdy shoes, a light rain jacket as Bwindi has unpredictable weather, insect repellent, sun screen and any other requirement needed once in tropical rain forest. Walking sticks will be available from the park rangers. Return to your lodge for dinner and overnight. Meal plan: Full-board
Day 6: Birding Buhoma
Have our breakfast, after go for whole day Buhoma birding which will take us to spot out for the merry making Green buls such as the Red-Tailed, Cabanis's, Shelley's, Yellow Whiskered, Slender Billed, Little Grey, Plain, Toro Olive other bird spp here will be the Yellow Spotted, Yellow Billed and Grey Throated Barbet, Red Faced Woodland Warbler one of the Albertine Rift Endemics and easily seen here. Yellow Bill, Dusky Long Tailed Cuckoo, Red Throated Alethe, differentiating the White Bellied and Equatorial Akalat would very interesting. Red Capped, Grey Winged and Blue Shouldered Robin Chat, African Shrike and Vanga Flycatcher, Black Faced Rufous Warbler, Red-Fronted Ant pecker, Pink Footed and Northern Puff buck, Buff Throated, Grey and Black Throated Apalis, Wallers, Narrow Tailed and Stuhlmann's Starling, Elliot's and Buff Bellied Woodpecker, Cassin's and Least Honey guide among the other bird spp in this area. Take the experience with your packed lunch, bottled water, rain gears, walkable shoes, hut, sun screen, insect repellent and any other requirement needed once in tropical rain forest. Return to the lodge for dinner and overnight. Meal plan: Full-Board
Day7: Birding Ruhija
 Have our morning breakfast and after go for morning birding walk to spot more birds and then transfer to Ruhija with en-route birding. Expect to spot species which  includes the MacKinnon's Fiscal, Tropical Boubou, Augar Buzzard, Ayre's Hawk Eagle, Mountain Buzzard and Wagtail, Cassin's Grey Flycatcher, Western Bronze Naped Pigeon, Black Faced Rufous Warbler, Barred and Dusky Long Tailed Cuckoo, White Headed Wood Hoopoe, Grey Cuckoo-Shrike, Ducky Tit, Ludher's and Lagden's Bush-Shrike, Grey-Green Bush-Shrike, Chestnut Throated Apalis, White Eyed Slaty Flycatcher, Streaky Seed-Eater, Stripe Breasted Tit, White Starred Robin and many more. Picnic lunch at Ruhija safari lodge, Tavern traveler's camp or Gorilla Mist Camp.  Return to lodge for dinner and overnight. Meal plan: Full-Board
Day8: Mubwindi Swamp Birding
Today have your breakfast, after visit the mubwindi swamp the number 1 African birding spot highlight which was recognized by the African bird club. The elevation is higher than any other birding site. At this site you will spot species like the African Green Broadbill, the Grauer's and  Grauer's Rush Warbler, most of the Albertine Rift Endemics here include the Handsome Francolin, Blue Headed, Blue Throated, Purple Breasted and Blue Throated Brown Sunbird, Red Throated Alethe, Mountain Illadopsis, Collard and Mountain Masked Apalis, Yellow Eyed Black Flycatcher plus more. Other bird species here will be the Bar Tailed and Narina Tragon, White Tailed Crested Flycatcher, Abyssinian Hill Babbler, Stripe Breasted Tit among others. Return to lodge for dinner and overnight. Meal plan: Full-Board
Day9: Bwindi Birding-Queen Elizabeth National Park
Today we depart early in the morning driving North West to Queen Elizabeth via the Ishasha sector, the game drive in Ishasha has chances of exposing us to African tree climbing lions. Lunch en-route. Arrive in queen evening with game drive towards to Katwe Crater Lake to spot or watch the flamingos as the sun is setting off. Dinner and overnight at Mweya lodge, Katara lodge or Hippo hill camp, Enganzi lodge. Meal plan: Full-Board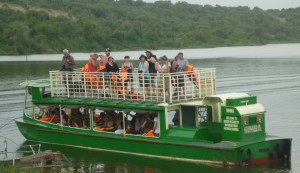 Day10: Birding Queen Elizabeth National Park
Have breakfast, thereafter take whole day birding experience to search for Savanna birds like the Small (Common) Buttonquail, African Crake, Martial Eagle, African Skimmer, Verreaux's Eagle-Owl, Black Headed Gonolek, Amur Falcon, Ovambo Sparrow hawk, Lowland Akalat, Greater and Lesser Flamingo and Temminck's Courser, Temminck's Courser, Martial Eagle, Ruppell's Griffon, White Headed, Lappet Faced Vultures, Harlequin Quail, Blue Quail. Return to lodge for lunch and afternoon go for boat ride along Kazinga channel which connects Lakes George and Edward, with excellent photographic opportunities for waterside birds and abundant wildlife like Hippos, Buffaloes among others. Expect to spot birds like African Spoonbill, Herring Gull, Lesser Black Backed Gull, Water Thick-knee, Three-banded Plover, Marsh, Green, African Skimmer, Striated Heron, Wood and Common Sandpiper, Gray-headed Gull, Plain Martin, Lesser Swamp-Warbler. Return to lodge for dinner and overnight. Meal plan: Full-Board
Day11: Queen-Kibale Forest National Park
Early morning breakfast, thereafter go for more birding at Kyambura gorge spotting out for more grassland birds including the Black Coucal, Holub's Golden and Lesser Masked Weaver, White Winged Widowbird, African Crake, Quails and many more species. Thereafter transfer to Kibale Forest National Park with our Lunch en-route, Evening go to Bigodi wetland to spot birdlife species life the rare shoe bills and wildlife spot like statungasKihingamy Swamp, expect to see the Ludher's Bush shrike, Cassin's grey flycatcher, Equatorial Akalat, Joyful Greenbul, Grey Winged Robinchat, White Collard Oliveback, African Black duck, White napped and Afep Pigeons, Joyful Greenbul and many others overnight at Primate Lodge of Nature Lodges.
Day12: Birding in Kibale forest & Chimp trekking
After an early morning breakfast, we set out into the forest and try all the best of luck to find the Green Breasted Pitta and other forest bird species in this area we get back to the lodge where we shall have our lunch then in the afternoon report to the starting point for chimp tracking, while tracking, birding can as well be done, do not hesitate to ask your ranger guide about the special birds you come across on this walk. This forest is home to the greatest variety and highest concentration of primates in the world. Thirteen different species have been identified here. Later we get back to our lodge for dinner and over night stay
Day13: Birding to Masindi
Transfer to Masindi birding en-route. We have about three routes to this place depending on the weather we shall chose one of these, birding stops will be at certain spots trying to find special birds. We later get to our destination and spend our night at Masindi or New Court View Hotel.
Day14: Birding at Royale Mile & Busingiro Eco birding site
After breakfast we transfer to Budongo birding en-route, stopovers will be at particular points to lookout for the Cabans's Bunting, Dark Caped Yellow Warbler, Black Bellied Fire Finch, Brown-backed Scrub- Robin, Grey Headed Oliveback, we proceed to the Royal Mile searching for Cassin's Spinetail and Hawk Eagle, Nahan's Francolin, Chocolate-backed and Dwarf Kingfisher, Spotted, White Throated and Yellow Whiskered Greenbul, Blue-throated Roller, Chestnut capped and Forest Flycatcher, Ituri Batis, Lemon Bellied Crombec, Uganda Woodland Warbler, Tit hylia as we get back to our lodge, we branch off to one of the ponds and search for the  Shining Blue Kingfisher, variety of swifts and Sabine's Spinetail. Back to the lodge for dinner and over night stay.
Day15: Birding to Northern Murchison Falls
After an early breakfast we check out and start birding to the northern part of Murchison Falls, we have a stopover at Kaniyo Pabidi to lookout for the Puvel's Illadopsis, the Grey and Yellow Long Bill and many others, we later proceed with our journey via the top if the falls, on a day when the tse-tse flies are few, we look out for the Grey Headed Bush Shrike, White Helmet and Northern White Crowned Shrike later find our ferry and cross to Paraa Safari Lodge for dinner and over night stay.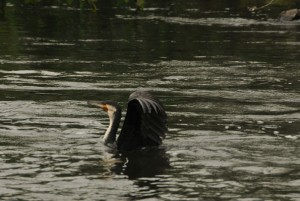 Day16: Game drive viewing & Boat ride
Breakfast, go fora morning game and birding drive down to the Delta at times provides chances for the Shoebill stork and other water birds. Animals we are likely to see include: the Lion, Leopards, Giraffes, Oribis, Hartebeests, Reedbuck and Elephants. Birding in this section of the park is excellent with the northern Uganda savannah bird species which may include the Western Violet backed and beautiful Sunbird, chestnut crowned sparrow, Brown Rumped Bunting, Red-winged Pytilia, Black Billed Barbet: the Northern Carmine, Swallow-tailed and Red Throated Bee-Eater, Abyssinian ground Hornbill, Stanley's Bustard, White Fronted Black-chat, Silver bird and many others. In the afternoon we take a boat ride on the Victoria Nile to the bottom of the falls. Birding here gives us chances of seeing the Rock Prantincole, African Finfoot, White Faced and Fulvous Whistling Duck, big schools of Hippos and Crocodiles. Evening birding drives are always rewarding.
Day17: Birding en-route to Kampala-Entebbe
Depending on your flight time and day, today we transfer to Kampala or Entebbe International Airport birding enroute for the White crested Turaco, we may have a chance to see the Red-headed Weaver, Yellow billed Shrike, Vaneceous Dove, Great and Lesser Blue Eared Starling, Yellow Bellied Hyliota and other grassland birds and many others after which transfer to the Airport for your flight, end of our 17 day birding safari in Uganda.