Uganda winning the name "Pearl of Africa" was because of the tourism resources endowed and out of that Uganda is known to be a region "Gifted by Nature". Gorilla safaris, Uganda gorilla trekking being the most stunning gorilla adventure in Uganda, the "ornithology" tours has become  more exciting together with wildlife encounters which Uganda  has to offer from different tourist important bird areas, destinations, list of birds in Uganda can be spotted from these areas: the Mabamba wetland birding site a best birding place in Uganda, Murchison falls, Mabira forest Eco tourism birding safaris and Budongo forest Eco tourism birding site "Royal mile" birding tours, Semliki  birding national park the "true birders' haven", Kibale national park, Queen national park the "medley of wonders", Bwindi impenetrable birding park, Mubwindi birding wetland, Lake Bunyonyi-Uganda birding tour the " Switzerland of Africa" in Kigezi region, Mgahinga national park, hiking, golden monkey tracking, uganda gorilla trekking, Batwa trail and Jinja town explore. The aim of Nature Adventure Tours and Safaris is to explore and explain all types of birds and other tourist resources to surpass our client's expectation.  On this safari we have opportunity to spot other tourism resources like mountain gorillas, chimps, wildlife and other leisure amazingly experienced like game drives, boat cruising, nature walks among others.
Today after your breakfast from your hotel of residence, you will be met by our guide or company representative and exchange happiness to each other. Thereafter have refreshment and take Entebbe city tour to the Entebbe botanical gardens, Uganda wildlife education center. The following bird species includes: Ruff, Wood, Common, Marsh Sandpipers, Common Green Shank, Long-tailed and Great Cormorants, Madagascar Bee-eater, Green Crombec, Orange weaver, Golden and Yellow backed weavers, Superb sun bird, Bare faced go-away-bird, Ross's and Great blue Turacos, Grey and Brown Parrots, Palm Swift, Little Swift, Entebbe Weaver (an endemic to Uganda that was recorded at the site only once), White spotted Fluff tail. Dinner and overnight at Entebbe botanical resort or Entebbe airport view guest house. Meal plan: Half-Board
Day2: Mabamba wetland birding safari-Lutembe bay birding site

Have our morning breakfast and pack some snacks, after from our guide we shall have an insight to the list birds of Uganda. Thereafter start the morning visit to the Mabamba wetland birding site which is very Important Birding Area. The emphasis at this site will be focused on the Shoe bill Stork, one of the threatened species in Uganda and other African regions. Apart from the shoe bill this wetland habits other bird life species which includes: the Lesser Jacana and the African, Purple Swamp hen, Reed Warblers, Pygmy and Spur Winged Goose, African Marsh Harrier, Rufous Bellied Heron. Drive back to the Hotel for your relax and later have Lunch. After drive to Lutembe bay beach along Entebbe – Kampala highway to spot variety of bird life species. This experience is much stunning as you explore and spotting various variety of birds like Caspian tern, Great knot, Hottentots teal, Temminck's stint, Broad billed sand pipers, which are vagrant visitors in addition to the masses of ducks and waders, African Grey Parrots, Broad Billed Roller, Grey Woodpecker, Klaas's, Died rick and Red Chested Cuckoo, Superb, Red Chested, Scarlet Chested, Collard, Green Throated and Copper Sunbird, Orange, Spotted Backed, Black Headed, Slender Billed and Golden Backed Weaver among others. Then drive to Kampala at Emin pasha lodge, Serena Hotel, Cassia lodge for dinner and overnight. Meal plan: Full-Board
After our morning breakfast, we shall embark our safaris truck and drive north-west Uganda to explore the wonders of Uganda. Uganda being the pearl of Africa, it is also known as the true African birders' Haven, as we go we shall be exposed to different bird species en-route which include the Lesser and Greater Blue-eared Starlings, Bronze Tailed among others which are a very difficult to spot but their sound calls helps to identify them. Little Sparrow – Hawk, African Harrier Hawk, Grey and Nubian Woodpecker, Green Backed Eremomela, Grey Headed Olive Back, White Chinned Prinia, Black and White Mannikin, Eastern Grey Plantain Eater, Red Eyed, African Morning, Black Winged-bishop, Fantailed Widowbird, White Crested Turaco, Black Billed and Blue Spotted Wood-dove, Yellow Bellied Hyliota, African Moustached Warbler, Brown Twin spot, the seasonal Lesser Grey Shrike, Brown Parrot, African Thrush, Ring Necked and Loughing Dove plus many other species of birds. Lunch en-route and birding at Ziwa Rhino sanctuary. Drive to Murchison national park and take a visit to the top of the falls. Dinner and overnight at Parra safari lodge, Chobe safari lodge, Murchison River lodge or Sambiya River Lodge. Meal plan: Full-Board
Day4: Birding Murchison-Boat Cruise
Have breakfast; thereafter take awesome birding experience to the northern banks of Murchison falls. Here look out for both wildlife and bird life species, which include the some big five (Lions, Buffaloes, Elephants, Giraffes), water bucks, bush bucks, warthogs, oribi, topi, Jackson's Heartbeats, Oribi, Bohor Reed buck, Hyena, Jackal, among others and the Grey Headed, Striped and Woodland Kingfisher, Red Shouldered Cuckoos-Shrike, Beautiful Sunbird, Foxy, Whistling, Croaking, Singing, Rattling, Zitting and Sniffling Cisticola, Abyssinian Ground Horn bill, Black Bellied and Stanley's Bustard, White Fornted Black Chat, Sooty Chat, Yellow Billed, Wood Chat and Grey Backed Shrike, Abyssinian and Rufous Crowned Roller, Spotted Morning Thrush, African Quail Finch, Vitelline Masked Weaver, Black Billed Baerbet, Swallow Tailed, Northern Carmine, Little and the seasonal Eurosian, Blue Cheeked and Olive bee-eater. White-browed and Chestnut Crowned Sparrow-weavers, White Headed Buffalo Weaver, Speckle Fronted Weaver, Rufous Sparrow, Superb Starling and many more product species respectively. Return to lodge for lunch. In the afternoon go for the cruise along to the River Nile to the bottom of the Murchison falls which will expose you to lots of water birds like the Saddle Billed, Yellow Billed and African Open Billed Stork, lots of different Kingfishers and large schools of Hippos and Nile Crocodiles. Return to lodge for dinner and overnight. Meal plan: Full-Board.
Day5: Birding Budongo Forest
After breakfast, start birding in morning to Masindi via Kaniyo – Pabidi which is part of the Budongo Forest Reserve an area with diversity of flora and fauna. The forest is criss crossed with well maintained network of forest trails making it easier to explore the dense forest with its beautiful biodiversity in different ways and this gives the best sighting for the Puvel's Illadopsis a shy and secretive dull brown bird, other species here will include the Grey and Yellow Lob bill, Chocolate Backed, Blue Breasted and Pygmy Kingfisher, We also have good views of the shaggy-crested Guinea awl, Fire Crested Alethe, Narina Tragon Yellow Billed, Grey Throated and Yellow Spotted Barbet among the species for today. Dinner and overnight at Kabalega resort or New courts hotel. Meal plan: Full-Board
Day6: Royal-Mile Birding
After our breakfast, today we shall bird at the Royal mile section where varieties of birds are spotted, this sites is found in the Murchison Falls Conservation Area. As we travel we shall have some en-route birding stopovers to spot out for birdlife species like the Singing Cisticola, Cabanis's Bunting, Dark Capped Yellow Warbler, Grey Headed Olive Back, Brown Twin spot, Black Bellied Fire Finch among others. This is excellent destination with an open interior and gives clients unique birdlife species like the Ituri Batis. Lemon Bellied Crombec, Firest Warbler, Dusky Long tailed Cuckoo, Dwarf, Blue Breasted, Pygmy and Chocolate Backed Kingfisher, Western Black Headed Oriole, Red Headed Malimbe, Blue Throated Roller, White Spotted Greenbul, Rufous Crowned Eremomela, Chect nut Capped and Forest Flycatcher, Yellow Crested Woodpecker and many more. We drive to Busingiro spotting more bird species, return to lodge for dinner and overnight. Meal plan: Full-Board
Day7:  Murchison – Kibale Forest National Park

 After breakfast, embark our safari truck and drive to Kibale forest national park, a home for the world primates (Chimpanzees) with bird life species. Along on the highway we shall have en-route stop over for birds. Lunch en-route, Some of the bird species expected on our stopovers includes: the Brown and Western Banded Snake Eagle, Little Sparrow Hawk, Walberg's Eagle, Joy full Green bul, Grey Throated Barbet, Olive Long tailed Cuckoo, White Breasted Nigro finch, African Emerald Spotted Cuckoo and many more. Dinner and overnight at Ndali lodge, Kyaninga lodge, Kibale primate lodge. Meal plan: Full-Board
Day8: Chimpanzee trekking – Bigodi Wetland Birding
Today we shall have breakfast, thereafter we enter into Kibale forest jungle to trek the chimps. These closest  cousins' of ours live in intricate societies, just like us we live in communities of humans, they solve complicated problems humanly, they can also use play tools, engage in convoluted social interactions and communicate through a variety of sounds and gestures. When encountering these habituated chimpanzees, you may scrutinize a variety of behaviors. Its worthy watching them play and interact with one another. Return to lodge for lunch and refreshment and thereafter go birding into the Magombe wetland and here expect to spot species like the Shoe bills, Green Breasted Pitta a very uncommon bird and restricted to forest interiors. We shall as well loom out for the African Broadbill, Rufous Flycatcher Thrush, Red Tailed Ant-Thrush and many more other bird life species. Return to lodge for dinner and overnight. Meal plan: Full-Board
Day9: Kibale Forest-Semliki National Park
Have breakfast and after drive to Sebitoli site for spotting unique bird life species. Thereafter drive to Semliki National Park "the True Birders' Haven". Arrive around lunch time at Semliki safari lodge, at this Haven expect to spot interesting bird species which await you and includes the brightly coloured waxbills, Golden Backed Pytilla, Melba Finch, Orange Cheeked Waxbill, Marsh Tchagra, Brown Backed Scrub Robin, Red Billed Dwarf, Black Dwarf, Piping and Black Wattled Casqued Hornbill are easily sighted. Dinner and overnight at Semliki safari lodge or Hotel Vanilla. Meal plan: Full-Board
Day10: Bird Watching
Today we shall have early morning cup of coffee and thereafter visit the Kirumia Trail, the excellent birding trail with Guinea – Congolian biome species, more so expect to spot out the African Piculet, Grants Bluebill, Crested and Blue Billed Malimbe, Green Throated Cuckoo, White Crested, Piping, Black Billed Dwarf, Black Casqued Wattled-Hornbill, Maxwell's Weaver, Rufous Sided and African Broadbill, Eastern Bearded Greenbul, Black Billed Turaco, African Pitta, Blue Throated Roller, Yellow Throated Nicator, Chestnut Bellied Negrofinches, Western Bronze Naped Pigeon, Orange Cheeked Waxbill among others. We shall either go with packed lunch and water or we may come back for lunch and later go again for the experience. Return to lodge for dinner and overnight. Meal plan: Full-Board
Day11: En-route birding-Queen Elizabeth National Park
Today we shall have our breakfast and take visit to the male and female (Sempaya and Kitagata) hot springs stunning Geo travel products and after visit to local communities around this park. Return to lodge for lunch and thereafter drive to Queen Elizabeth National Park. Arrive to Queen and take en-route birding and straight go to Lake Katwe a Crater that habits the flamingos and they can stunning to watch as the sun is setting off. Dinner and overnight at Mweya safari lodge, Katara lodge, Ishasha wilderness camp, Enganzi Lodge, Hippo hill lodge, Simba Safari Lodge. Meal plan: Full-Board
Day12: Game drives-Boat cruise
After our morning cup of coffee, we shall take dawn game drive in this second largest National Park of Uganda to explore the wildlife like big five ( Lions, Buffaloes, Giraffes, Elephants) and other species like warthogs, water bucks, bush bucks, topi, oribi among others. From this savannah grass land expect to spot various birdlife species recorded, about 612. They includes: Warbler, Black and White Browed Coucal, Golden Weaver, Grey Kestral, Southern Red Bishop, Flappet, Red Capped and Rufous Napped Lark, Grassland, Plain Backed and Thick Billed Pipit, Black-Chinned Quail Finch, Crimson Rumped Waxbill, White Browed Robin chat, Black Headed Gonolek, Common and Blue Quail, African Crake, Temminck's Couser and many more other grassland birds. Return to lodge for lunch and after take a boat ride along the panoramic Kazinga channel that gives close view of animal and water birds like the Goliath Heron, Black Crake, African Spoonbill, African Jacana, Collard Pratincole, Great White and Yellow Billed Egret, Squacco Heron among others. Return to lodge for dinner and overnight. Meal plan: Full-Board
Day13: Queen-Bwindi Uganda Birding tours

Today after our breakfast, drive via Ishasha sector to search for African tree climbing lions and at the same time spotting various species of birds like the African Cuckoo-hawk , African Cuckoo, Common Scimiter bill, Black Bellied Bustard, Red Faced Crombec, Bateleur, Hooded, Ruppell's Griffon, Lappet Faced and White Backed Vulture. Picnic lunch en-route and after head towards the Gorilla's mist. While proceeding to this sanctuary of gorillas, you will view the well arranged canoes of Mountain Rwenzori with white ice. Dinner and overnight at Buhoma lodge, Mahogany springs, Gorilla forest camp, Clouds Mountain lodge, Kitandara camp, Engagi lodge. Meal plan: Full-Board
Day: 14 Buhoma Birding
Have our breakfast, after go for whole day Buhoma birding which will take us to spot out for the merry making Green buls such as the Red-Tailed, Cabanis's, Shelley's, Yellow Whiskered, Slender Billed, Little Grey, Plain, Toro Olive other bird spp here will be the Yellow Spotted, Yellow Billed and Grey Throated Barbet, Red Faced Woodland Warbler one of the Albertine Rift Endemics and easily seen here. Yellow Bill, Dusky Long Tailed Cuckoo, Red Throated Alethe, differentiating the White Bellied and Equatorial Akalat would very interesting. Red Capped, Grey Winged and Blue Shouldered Robin Chat, African Shrike and Vanga Flycatcher, Black Faced Rufous Warbler, Red-Fronted Ant pecker, Pink Footed and Northern Puff buck, Buff Throated, Grey and Black Throated Apalis, Wallers, Narrow Tailed and Stuhlmann's Starling, Elliot's and Buff Bellied Woodpecker, Cassin's and Least Honey guide among the other bird spp in this area. Take the experience with your packed lunch, bottled water, rain gears, walkable shoes, hut, sun screen, insect repellent and any other requirement needed once in tropical rain forest. Return to the lodge for dinner and overnight. Meal plan: Full-Board
Day15: Uganda Gorilla Trekking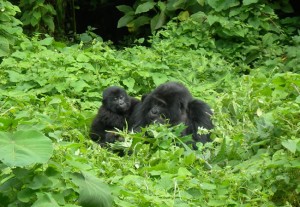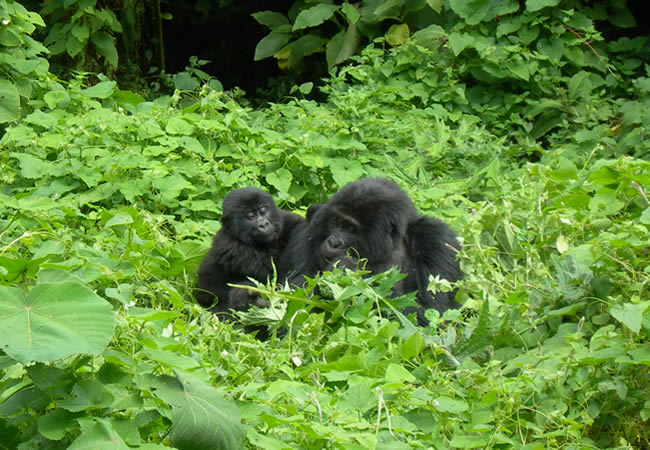 After an early morning breakfast prepare for a briefing from the Uganda wildlife officials, after enter into the jungle to search or for your gorilla tracking in the forests of Bwindi. Gorilla tracking can be strenuous because of Bwindi's challenging terrain.  This activity is a full day memorable experience and therefore you will need to carry a packed lunch and drinking water, wear comfortable boots or sturdy shoes, a light rain jacket as Bwindi has unpredictable weather, insect repellent, sun screen and any other requirement needed once in tropical rain forest. Walking sticks will be available from the park rangers. Return to your lodge for dinner and overnight. Meal plan: Full-board
DAY 16: Birding Ruhija
Have our morning breakfast and after go for morning birding walk to spot more birds and then transfer to Ruhija with en-route birding. Expect to spot species which  includes the MacKinnon's Fiscal, Tropical Boubou, Augar Buzzard, Ayre's Hawk Eagle, Mountain Buzzard and Wagtail, Cassin's Grey Flycatcher, Western Bronze Naped Pigeon, Black Faced Rufous Warbler, Barred and Dusky Long Tailed Cuckoo, White Headed Wood Hoopoe, Grey Cuckoo-Shrike, Ducky Tit, Ludher's and Lagden's Bush-Shrike, Grey-Green Bush-Shrike, Chestnut Throated Apalis, White Eyed Slaty Flycatcher, Streaky Seed-Eater, Stripe Breasted Tit, White Starred Robin and many more. Picnic lunch at Ruhija safari lodge or Gorilla Mist Camp.  Return to lodge for dinner and overnight. Meal plan: Full-Board
Day17: Mubwindi Swamp Birding
Today have your breakfast, after visit the mubwindi swamp the number 1 African birding spot highlight which was recognized by the African bird club. The elevation is higher than any other birding site. At this site you will spot species like the African Green Broadbill, the Grauer's and  Grauer's Rush Warbler, most of the Albertine Rift Endemics here include the Handsome Francolin, Blue Headed, Blue Throated, Purple Breasted and Blue Throated Brown Sunbird, Red Throated Alethe, Mountain Illadopsis, Collard and Mountain Masked Apalis, Yellow Eyed Black Flycatcher plus more. Other bird species here will be the Bar Tailed and Narina Tragon, White Tailed Crested Flycatcher, Abyssinian Hill Babbler, Stripe Breasted Tit among others. Return to lodge for dinner and overnight. Meal plan: Full-Board
Day 18: Bwindi – Mgahinga National Park
After breakfast, take another short birding trail at Ruhija. Return to lodge for lunch and thereafter drive to Kisoro town and take your evening relaxation in the town entertainment centers or at your Hotel. Dinner and overnight at Kisoro Travelers Hotel. Meal plan: Full-Board
Day 19: Birding in Mgahinga National Park
Today we shall have our early morning breakfast at the hotel, after drive to Mgahinga national park. From this volcanic park expect to spot bird species like the White-starred Robin, White Eyed Slaty Flycatcher, Olive Thrush, Mountain Yellow Warbler, White Tailed Blue Flycatcher, White-napped Raven, Olive Woodpecker, Dusky Crimsonwing, Lagden's Bush-Shrike, Cape Robin, Grey Caped Warbler, Bronze Sunbird, Yellow-crowned Canary and Rwenzori Turaco. We shall have picnic lunch at one of the camps. Evening drive to Lake Bunyonyi the "Switzerland of Africa" in the Kigezi region where you will enjoy the white sand beach and birding from several islands. Dinner and overnight at Heritage lodge or Jajama panorama lodge. Meal plan: Full-Board.
Day 20: Lake Bunyonyi "Switzerland of Africa"

Today after our breakfast, with our professional bird guide we shall board a boat and head to various islands to spot birds and the experience at the site is much stunning. Return to lodge for lunch. Prepare to visit the local communities around Lake Bunyonyi and experience their culture even you can participate in their cultural performances. Return to lodge for dinner and overnight. Meal plan: Full-Board
Day21: Lake Bunyonyi – Kampala
Today we shall have our breakfast, thereafter embark our safari truck drive to Kampala, with lunch en-route. Amazing stopover at the Uganda's equator for informative talks, snacks and the life time memory photo taking. Dinner and overnight at Serena hotel, Emin pasha lodge or Cassia lodge, Capitol palace. Meal plan: Full-Board
Day22: Kampala – Mabira Eco birding tours

Have your breakfast, after our guide will pick you and thereafter transfer eastern Uganda. Visit Mabira forest reserve and the whole day will be spent at this site to spot unique birdlife species like Nathan falcon and others. Picnic lunch will be enjoyed. Evening drive to Jinja and take relaxing leisure viewing the source of the Nile and more. Dinner and overnight at Jinja Nile resort, Holland Park or Sun set international hotel. Meal plan: Full-Board
Day23: Jinja – Entebbe
Have breakfast, thereafter go for AM or PM boat cruise along River Nile, while on the boat you will get closer view of water birds along the River and the experience is much stunning. Return to lodge for lunch and after all that experience package drive back Kampala – Entebbe airport to board your flight back home or next destination. End of services, Meal plan: Half-Board-"Tuuka-Bulungi-Safe journey-We are very happy to host you again"!!
The safari includes:
Airport transfers
Transportation by safari van
Accommodation and meals as per itinerary
Boat cruise
Game drive
Gorilla permits, one per person to be paid in advance
Driver allowances
En-route lunches
bird watching
Visit the equator
The package excludes:
The package excludes expenses of personal nature like: Air fare, Visa, drinks, laundry, tips to local guides, telephone, porter fee while trekking, personal insurance, personal shopping bills and cigarettes.