This tour takes you to the finest safari parks plus tourist sites in Uganda. Taking you to the Murchison Falls, Queen Elizabeth national park hubs of wildlife, Lake Bunyonyi, Lake Mburo, historical and religious sites, Zikka forest, Mabamba and Ngamba chimpanzee sanctuary, chimp trekking in the Kibale Forest and the trilling uganda gorilla trekking in the Bwindi Impenetrable Forest. When on this safari more amazing experience is enjoyed and it can be attained together with the experts of Nature Adventure Tours & Safaris the source of  uganda tours, primates safaris and wildlife tours.
Day 1: Entebbe/Kampala-Murchison Falls
Today after your breakfast from your hotel of residence, you will be met by our guide or company representative. Then transfer to North-west through famous Luwero Triangle and Masindi Town to Murchison Falls National Park. En-route lunch at Masindi hotel or New courts hotel and then proceed to the top of the falls where you can see the Nile's beauty perfected! Marvel at the Nile, compressing from 50 meters to squeeze through a 6-meter canyon dropping 40 meters with a thunderous roar. Dinner and overnight at Para Safari Lodge, Nile safari lodge, Chobe safari lodge, Sambiya River lodge, Murchison River lodge or Red chilli rest camp. Meal plan: Half-Board.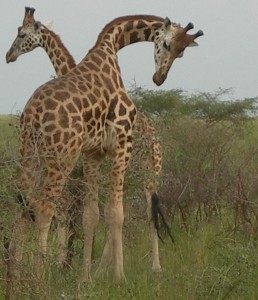 Day 2: Murchison Wildlife
Dawn game drive via the Nyamsika plateau, enjoy the view and you may see some of the big five like (elephant, lion, buffalo and giraffe), warthogs, bush back, water buck, hartebeests and many more.  Return to lodge for refreshment, breakfast and lunch, then after prepare for a boat trip on placid Victoria Nile, upstream, to the base of the fall. En route you will see hippos, crocodiles, water buck and a wide variety of birds like the unusual shoebill stork pelican bee-eater, egret and heron. The boat stops just tens of meters from the "Devil's Cauldron". Take pictures of the photogenic and majestic Murchison Falls. Return to Lodge for dinner and overnight. Meal plan: Full-Board.
Day 3: Murchison-Kibale.
Enjoy breakfast and then continue to Kibale National park where you will arrive in the afternoon, have a delicious lunch and rest. Dinner and overnight at Primates Lodge or Ndali lodge, chimp nest or Nyinabulitwa lodge. Meal plan: Full-Board.
Day 4: Chimpanzee Trekking.
After breakfast, proceed to the moist tropical rainforest for chimpanzee tracking in Kibale National Park. Uganda apes, the forest is known for harboring the largest number of primates. The search for chimpanzees may reward you with other primates such as the grey Mangabeys, pottos, Columbus monkeys, bush babies, baboons and many more. Return to lodge for you lunch, in the afternoon you will go for a walk to the Bigodi Wetland characterized with unique flora and fauna like sitatungas in this area. Return to lodge for Dinner and overnight. Meal plan: Full-Board.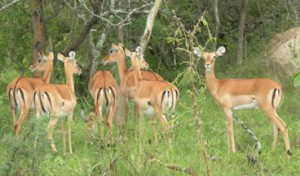 Day 5: Semliki National Park
Have early morning cup of coffee and after drive to Semliki National Park. This drive will journey to the lower eastern part of L. Albert. Located within the western Rift Valley basin, the Semliki National Park is among the parks with various habitat among which are Riparian forests, high savanna-grass, rainforests ad low savannah-grass. It is prominent for its game drives conducted at day and night during which you will catch sight of the night-time residents such as slender mongoose, cats, leopards, white-tailed mongoose, standard winged nightjars, hyenas and pennant winged night jars. This is the only park in Uganda that offers night game drives. The park offers numerous surprises like hot springs awaiting you to unfold visit to the local communities like the Batwa, Bakonjo to experience their culture and traditional methods applied to their farms. Dinner and overnight at Semliki safari Lodge or camping facilities are provided. Meal plan: Full-Board.
Day 6: Queen Elizabeth National Park
After breakfast we shall embark our safari vehicle to Uganda's highest biodiversity park – Queen Elizabeth National Park. Reaching the park by afternoon, we shall catch the boat ride on the Kazinga channel. This launch trip is rewarding with excellent views of a number of animals such as hippos, buffaloes, elephants and plenty of birds that characterize the shores of Lake George and Edward. In the evening, go for an evening visit to Lake Katwe for flamingo watching and experience salt mining. Dinner and overnight at Mweya Safari Lodge or Katara lodge, Simba safari lodge or Ihamba Safari Lodge and Mweya Hostel. Meal plan: Full-Board.
Day 7: Chimp trek Kyambura Gorge
After early morning breakfast, take an early excursion to Kyambura gorge to trek the fast moving and elusive chimpanzees. Though seeing these mobile chimpanzees is un-predictable, the walk is wonderful. Alternatively visit the Maramagambo Forest where you will see the bat cave, the blue lake and several primates. In the afternoon take a launch cruise on the Kazinga Channel in case you did not take it in your previous day which is blessed with many hippos, solitary buffaloes, and a vast array of birds. Return to lodge for Dinner and overnight. Meal plan: Full-Board.
Day 8: Queen-Bwindi Gorilla Park
After breakfast, drive through the Ishasha sector then expect to see the tree climbing Lions and other game like the Uganda Kob, elephants, topi and much more. Thereafter transfer to Bwindi Impenetrable National Park and you will reach in the afternoon take a walk around the neighboring communities and also get entertainment from the local performances, do shopping of crafts. Dinner and overnight at Gorilla forest Camp or Mahogany springs, Buhoma lodge, Gorilla safari lodge, Buhoma Community Bandas. Meal plan: Full-Board.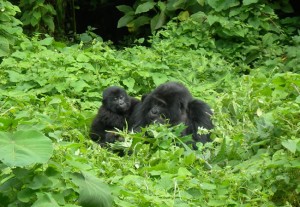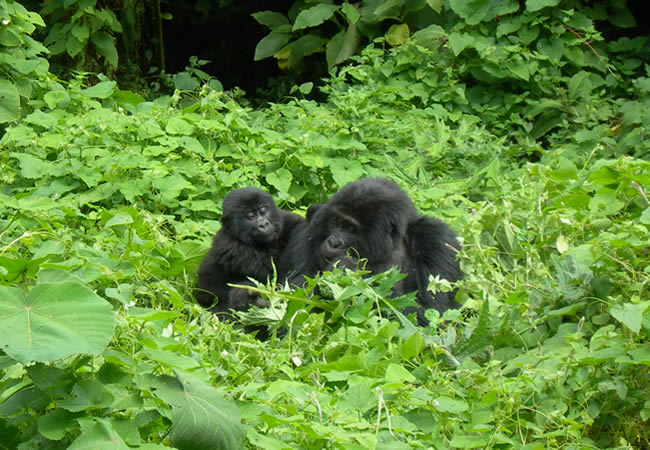 Day 9: Mountain Gorilla Trekking
Early morning cup of coffee, then prepare for the briefing from the Uganda wildlife officials and thereafter enter into the jungle to search the shy mountain gorillas and enjoy their life style in their real home. After meeting the gorillas, you can sit around these great apes for a whole hour gazing into their big round eyes. On a gorilla safari, a reasonable degree of fitness is required as well as walking shoes, packed food and mineral water, insect repellent, sun screen and hut. The gorilla tracking experience takes half or whole day depending on the movement of these primates. After this experience you will have informative memorable experience in life. Return to lodge for dinner and overnight. Meal plan: Full-Board.
Day 10: Bwindi-Lake Bunyonyi "Switzerland of Africa"
After an early breakfast, head to Lake Bunyonyi. This is a very spectacular destination with beautiful small islands and enclosed by steep terraced slopes. It is renowned as a birding paradise with several aquatic birds. The lake was name Bunyonyi to mean the "small birds". Dinner and overnight at Arcadia cottages, Heritage lodge or Jajama lodge. Meal plan: Full-Board.
Day 11: Lake Bunyonyi
Enjoy canoeing in the morning on this stunning lake to see the various bird species. Return to lodge for breakfast and lunch, evening visit to local communities near the lake like the Batwa and experience their art crafts and performances. Return to lodge for dinner and overnight. Meal plan: Full-Board.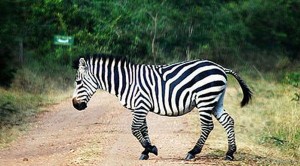 Day 12: Lake Mburo National Park
After early morning breakfast, embark our safari vehicle and depart to Lake Mburo National Park. This park is famous for its numerous antelopes among which are impalas after which Uganda's capital city was named-Kampala. Drive past breathtaking sceneries of the country side to arrive in the afternoon at Lake Mburo National Park. You will break for lunch before going for a canoe ride on the Lake as look for the various animals on the lake shore. Dinner and overnight at Mihingo lodge or Mantana tented Camp. Meal plan: Full-Board.
Day 13: Lake Mburo
After breakfast have a morning game drive and later explore the flora and fauna of the park in the afternoon. The park is also renowned as a bird-watching paradise with more than 300 species. Return to lodge for dinner and overnight, Meal plan: Full-Board.
Day 14: Lake Mburo-Kampala
After breakfast visit the Igongo cultural centre to experience rituals and norms of Ankole region, thereafter head back to Kampala with lunch en-route. Stopover at the equator to take some photos and shop souvenirs', then visit the Buwama crocodile farm, take bird watch at Mpanga forest and later arrive in Kampala in the evening. Dinner and overnight at Hotel Africana, Cassia lodge or Namirembe guest house. Meal plan: Full-Board.
Day 15: Kampala-Entebbe.
After an early breakfast, our guide will pick you from your hotel of residence and have a city tour in Kampala to visit the various historical and religious sites like the Namirembe and Lubaga cathedrals, Uganda Museum, Kasubi Tombs, Wamala Tombs Bahai Temple and the Namugongo Martyrs Shrine. Lunch en-route after drive to Entebbe with ecological stopover at zikka forest for cave and canopy viewing; thereafter visit the Mabamba wetland for bird watching. Dinner and overnight at Entebbe botanical gardens or Entebbe airport view guest house. Meal plan: Full-Board.
Day 16: Entebbe-Ngamba chimpanzee sanctuary.
After your morning breakfast, our guide will transfer you to the Entebbe water front club. Ready prepared to board the speed boat or traditional boat to Ngamba islands a home to the endangered/orphan chimpanzees. Upon your arrival you will be welcomed by a day care giver and you will be briefed before you for the chimpanzee feeding experience, birds can also be watched along the banks of the Lake. Lunch at the island and after all that life memory experiences return to Entebbe with free entrance to the Uganda wildlife education centre to relax in cool environment with the view of some big five caged, birds. In the evening the guide will transfer you to the Airport such that you board flight back home. End of services-Meal plan: Half-Board.
This safari package includes.
Airport transfers
Transportation by safari van
Game drives
Boat ride
Nature walks
Accommodation and meals as per itinerary
Bird watching
Visit Zikka forest
Visit Ngamba chimpanzee sanctuary
Visit the Uganda wildlife education centre
Driver allowances
Park entrance
En-route lunches
The package excludes
The package excludes expenses of personal nature like: Air fare, Visa, drinks, laundry, tips to local guides, telephone, porter fee while trekking, personal insurance, personal shopping bills and cigarettes.