On this adventure safari, you will visit several spot highlight destinations which includes the Murchison falls to experience its stunning falls bio-diversity especially some of the big five and birdlife species, visit to queen national park and enjoy the chimps in Kyambura gorge, boat ride, game drives, then to the Bwindi a home to endangered mountain gorillas and after take a relax at the "Switzerland of Africa" (Lake Bunyonyi) which acquired the name from regard that too much small birds stay at this lake. This safari is of valve to clients' money, just book and you will get all what you expect.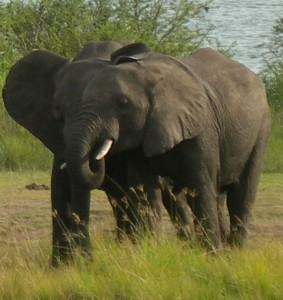 Day 2: Entebbe – Murchison National park

Upon your arrival at Entebbe international airport, you will be met by our guide. Then transfer to North-west through famous Luwero Triangle and Masindi Town to Murchison Falls National Park. En-route lunch at Masindi hotel or New courts hotel and then proceed to the top of the falls where you can see the Nile's beauty perfected! Marvel at the Nile, compressing from 50 meters to squeeze through a 6-meter canyon dropping 40 meters with a thunderous roar. Dinner and overnight at Para Safari Lodge, Nile safari lodge, Chobe safari lodge (High end), Sambiya River lodge, Murchison River lodge (Mid-range end) or Red chilli rest camp (Low end facility). Meal plan: Half-Board.
Day 3: Murchison.
After breakfast, we will go for a morning Chimpanzee trekking in Kaniyo Pabidi Forest. This is an undisturbed area of natural forest within Budongo Forest Reserve where you can walk beneath mature mahogany and iron wood trees. Chimpanzee trekking is the most famous activity. You will certainly see many forest birds, including the chocolates-backed Kingfisher, the white-thigh hornbill and puvel's illadopsis found nowhere else in East Africa. We will drive back to the lodge for lunch before taking an afternoon boat cruise to the foot of Murchison Falls. This boat trip along the Nile is often cited as being the highlight of a trip to Murchison since it allows you to get up-close and personal with the animals. Along this stretch of the river, there are reported to be around 4,000 hippos in addition to some enormous Nile crocodiles. The bird life is stunning with brightly colored kingfishers and bee-eaters darting along the riverbanks. If lucky, you may see the rare and prehistoric looking shoebill, which is a cross between the dodo and a dinosaur. The boat takes you to the base of the falls which only adds to their impressiveness. Return to the lodge for dinner and overnight. Meal plan: Full-Board.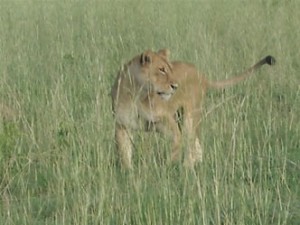 Day 4: Murchison-Queen National Park

Early morning breakfast, after game drive from Murchison Falls NP heading Southwest via the Albertine Escarpment of the great Western Rift Valley. Drive through Hoima and reach the colorful and beautiful town of Fort Portal, the capital of the Toro kingdom, situated in the shadow of the fabled "Mountains of the Moon," the Rwenzori.  Lunch at Mountains of the Moon Hotel in Fort Portal or Rwenzori view guest house.  Continue to Queen Elizabeth National Park. Dinner and Overnight at Mweya safari Lodge or Katara lodge (High end accommodation), Simba safari camp or Ihamba safari lodge (Mid-range accommodation) or Mweya Hostel (Budget facilities). Meal plan: Full-Board.
Day 5: Kyambura Gorge Chimp trek & Boat ride    
This morning we will leave for the 08.00am chimpanzee trekking in Kyambura Gorge. Expect to see various primates most especially Chimpanzee of different species, Black and white Columbus monkeys and other animals like antelopes, hyenas, Lion and many others in the middle of savanna grassland. This gorge is a home of very many bird species. We will return to the lodge for lunch and a chance to relax before taking an afternoon boat trip along on Kazinga channel. This will give you the opportunity to view wildlife up close: hippo's huff and spray mere feet away from the boat, buffalo linger in the shallows. The shores of the channel are also home to an array of birds including pink backed pelicans, pied and malachite kingfishers, saddle billed stork and many others. After this wonderful afternoon, a slow drive back to the lodge. Return to lodge for dinner and overnight, Meal plan: Full-Board.
Day 6: Queen-Bwindi.
This morning, embark our safari van and depart to Bwindi Forest a home to half population of Africa mountain gorillas. Drive through the southern Ishasha sector.  En-route lunch by the Ishasha River and try to spot famed Ishasha tree-climbing lions. Bird life and other primate life in Bwindi are quite superb, and there is an incredible variety of flora. Bwindi is the Bird watchers heaven! It holds 348 species of birds and supports 24 of 26 Albertine Rift Endemics that occur in Uganda; and seven red data book species. Once continuous with the forests of the Virunga Volcanoes (Dian Fossey's stomping ground), Bwindi is now an ecological island, surrounded by cultivation on the rich volcanic soils. Dinner and Overnight at Gorilla Resort, Gorilla forest camp, Mahogany springs (High end accommodation), Engagi lodge (Mid-range facilities) or Buhoma Community Bandas (Budget accommodation). Meal plan: Full-Board.
Day 7: Bwindi Forest National Park
Early morning cup of coffee, then prepare for the briefing from the Uganda wildlife officials and thereafter enter into the jungle to search the shy mountain gorillas and enjoy their life style in their real home. After meeting the gorillas, you can sit around these great apes for a whole hour gazing into their big round eyes. On a gorilla safari, a reasonable degree of fitness is required as well as walking shoes, packed food and mineral water, insect repellent, sun screen and hut. The gorilla tracking experience takes half or whole day depending on the movement of these primates. After this experience you will have informative memorable experience in life. Return to lodge for dinner and overnight. Meal plan: Full-Board.
Day 8: Bwindi – Lake Bunyonyi.
After an early breakfast, head to Lake Bunyonyi. This is a very spectacular destination with beautiful small islands and enclosed by steep terraced slopes. It is renowned as a birding paradise with several aquatic birds. You will go for a 2 hour boat ride inside Lake Bunyonyi to which will take you to various islands inside the lake for bird viewing, sightseeing and discovering the sites of the Batwa, Bakiga culture. Dinner and overnight at Arcadia cottages or Bunyonyi safari camp. Meal plan: Full-Board.
Day 9: Bunyonyi – Kampala.
After breakfast, embark our safari vehicle and depart to Kampala with stopover at the Igongo cultural centre for lunch and to experience the rituals and norms of Ankole region, stop at the equator for photo taking and snacks arriving in the evening. Transfer to the Entebbe international airport to board your flight back home. End of services, Meal plan: Half-Board.
This safari package includes.
Airport transfers
Transportation by safari van
Game drives
Boat ride
Bird watching
Nature walks
Accommodation and meals as per itinerary
Gorilla permits, one per person to be paid in advance
Chimp permits, one per person to be paid in advance.
Driver allowances
Park entrance
Chimp permits, two per person to be paid in advance
En-route lunches
Visit the equator and igongo cultural Centre.
The package excludes.
The package excludes expenses of personal nature like: Air fare, Visa, drinks, laundry, tips to local guides, telephone, porter fee while trekking, personal insurance, personal shopping bills and cigarretes.