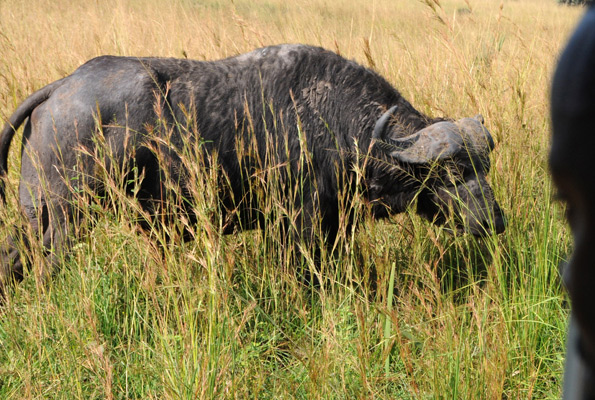 Exciting Uganda tours prospects in 2013
A tourist looks at a buffalo in one of Uganda's National Parks. The country's tourism sector is expected to perform better in 2013 boosted by a number of international recognitions.
Uganda's tourism sector in 2012 received a number of international recognitions boosting the sector's prospects in 2012.
Uganda as a tourist destination could have been negatively affected by the protests between April and May; however, a reprieve to the sector at the close of the year in form of Lonely Planets, revived its hopes, building ground for a better 2013.
The international tourism, geography and environmental conservation publishers, showered Uganda's tourism sector with numerous visibility accolades, a mark that is expected to build a formidable ground in 2012 to compensated for the losses registered during 2011.
The tourism sector, according to Tour operators, lost about 30 per cent (about $340,000) in bookings, while the hotel industry is said to have lost close to 70 per cent of the bookings as a result of protests in the country then.
Early in March, Bwindi Impenetrable National Park had been voted Africa's number one birding site by the African Bird club, ahead of South Africa's Kruger National Park and Cape Town's ocean shores. The ranking also put Murchison Falls National Park in ninth position among the top 10 birding sites on the continent.
Entry of accolades
Surprisingly, just less than a month after the protests, accolades ranking highly Uganda's tourism potential began coming, one after the other. In June, the Mountains of the Moon (Mt. Rwenzori) was added to the list of accolades, after National Geographic Magazine voted it among the top 15 hiking spots in the world.
The magazine again nominated the Virunga volcanoes in south-western Uganda in October, as the number one place among the 20 places one has to visit in their life time. A half-page insert described the Virunga, where we find Bwindi and Mgahinga National Parks, as 'Africa's Green and Fiery Heart.'
Uganda's tourism industry continued to receive mileage when a few weeks later, Lonely Planet, the world's largest travel guide book and digital media publisher, named the Pearl of Africa as the best tourism destination for tourists in 2012.
"Uganda is the river Nile, it's where savannah meets the vast lakes of East Africa, where snow-capped mountains bear down on sprawling jungles and Kampala is one of Africa's safest places," the site read in part.
Uganda emerged the number one destination ahead of Myanmar (Burma), Ukraine, Jordan, Denmark, Bhutan, Cuba, New Caledonia, Taiwan and Switzerland. In November, the National Geographic website again voted the Ishasha tree-climbing lion the best picture for 2011.
The ranking provide a pointer and hope that Uganda's tourism industry could return to its 1960 glory. "2011 has been a good year, it has created visibility for Uganda but much is needed to showcase our endowments to stimulate domestic, regional and international tourism to benefit from this visibility," the executive director Uganda Tourism Board, Mr. Cuthbert Balinda Baguma said recently.
Uganda's tourism potential is just immense, bigger than all the other countries in the region including Kenya, Tanzania and Rwanda, although they currently earn much more than Uganda. For instance, apart from wildlife and beaches, Kenya and Tanzania don't have anything more to offer.
Uganda on the other hand has a diversity of options including nature-based attractions such as mountain gorillas, over 1,065 bird species, the source of the world's longest river and the world's best white water rafting sites to mention but a few. But for their shortage of resources, Kenya, Tanzania and Rwanda make up through aggressive marketing and improved services to sell their destinations.
For instance, Kenya invests $23 million in marketing its tourism annually and is able to earn about $3.5 billion, according to the 2010 data.
Tanzania invests $10 million annually and reaps about $3.2 billion while and Rwanda which sinks $5 million in marketing its tourism sector per year earns $1.2 billion annually.
Uganda on the other hand, which invests $330,000 in marketing, settles for $650 million as revenue from the sector, according to the 2010 data. "We still have budget constraints despite the will to market the tourism industry. We are a full ministry but operating on a budget of a department," Tourism Minister, Prof. Ephraim Kamuntu said recently.
However, for the industry to actualize the visibility created by Lonely Planet and National Geographic, players, including the private sector and the Uganda Wildlife Authority, must join hands to brand and market Uganda.
Working in partnership
For instance, the Uganda Tourism Association, in partnership with Private Sector Foundation Uganda in October spearheaded the launch of the Seven-Wonders National Programme.
The campaign where Uganda's best tourist features will be identified with selections spread across flora, fauna, national parks, forests, rivers, mountains, rocks, historical, religious and anthropological sites seeks to promote Uganda's tourism industry within and outside Uganda.
Last month (December), UWA, in partnership with the Civil Aviation Authority branded the Entebbe International Airport in a move to showcase Uganda's spectacular features to boost tourism.
UWA executive director, Dr Andrew Seguya, said recently that branding Uganda's international airport with various tourist attractions found in the country is the first step in recognizing Uganda's beauty.
Save