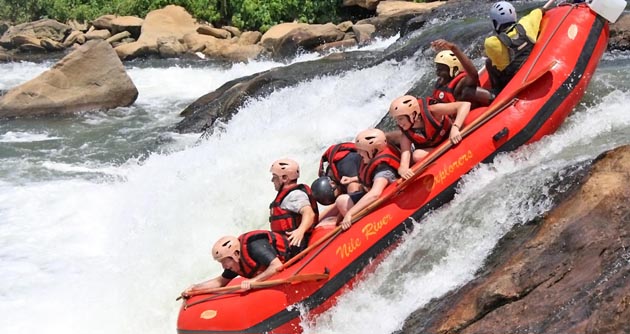 Exciting uganda tours-Rafting gone wild for conservation
Bujagali Energy has announced that as all river activities will close on the section of the river above the new dam – Bye Bye Bujagali Falls.
Nile River Explorers has decided that we want to use the last day of rafting that section of the river, 28th Feb as a major fund raising for conservation 'If we can't save our own Silverback at least we can help to conserve others'.
The Basic concept is that we will sell every boat we have, every seat on a boat to conservation in Uganda.  I want to feature four NGO's:
Rhino Fund Uganda
Uganda Conservation Foundation
Gorilla Organization
And of course Ngamba Island /CWSCT
The concept of the day is to raft just the section of the river that we will lose. Approx 45 minutes of big rapids, then an hour float with surprise nibbles and drinks, followed by a big party at our campsite – maybe a band – raffles – auctions etc – and of course each org would have an information table.
We have 18 rafts we can use and I would like to give each org 2-3 rafts each to sell directly – the rest we will sell to individuals or corporate that would prefer to give to all four – e.g. Nile Breweries – who I know will be behind it 100%.
What each NGO does with their rafts is up to them — sell them at the same price – maybe auction them off – maybe get sponsors and see how much can be raised from you yourself taking a seat in one of the rafts – potential for this could be quite a big fund raiser if we can hit it from all directions – mailing lists, if you can't be there you can still give !!??.
Save