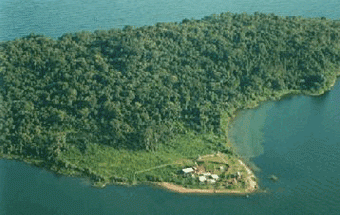 For Uganda tours it takes 15 minutes drive to see chimps in Ngamba islands Tourism
Going to see chimpanzees and the hundreds of bird species in Ngamba islands will now take just 15 minutes from Kajjansi outside Kampala, thanks to a memorandum of understanding (MoU) signed on Tuesday.
The MoU between Kajjansi Aero Club (Fly Uganda) and the Chimpanzee Sanctuary and Wildlife Conservation Trust (CSWCT) will see Fly Uganda carry tourists to the Lake Victoria island famed for its chimpanzee conservation, as well as the monitor lizard and abundant bird species.
The chopper bought from the Japanese Police Force about three years ago will also help promote the other tourist features of the island that include sport fishing and community tourism.
The helicopter carries a maximum of four passengers and a return trip will cost $980 for four full packages, including access to the island.
The island has until now been serviced by boats and motorized vessels only, for a journey that takes an average of 40 minutes. By boat, it costs $80 per person for a minimum of four passengers for foreign tourists and $60 for East Africans.
"This is a natural extension to get more tourists to Ngamba islands," said Russell Barnes, the director of Fly Uganda at the signing in Kajjansi. A trial flight has reportedly already been done with chimps reacting positively by coming over to watch the chopper. Barnes said the longer tourists stay in Uganda, the more money they spend and have a better experience "and the more they can talk positively about the country."
Lilly Ajarova, the executive director of CSWCT, said Ngamba highlands houses rescued chimpanzees from areas that they were endangered. She cited West Africa, where the chimpanzee is already extinct in four states.
"Most of their mothers were killed and were brought as babies. Some were brought back from Europe after being traced back to Uganda. There has to be a deliberate move to see they continue surviving," said Ajarova.
The sanctuary receives 4,000 international tourists annually. "It is a destination promoting Uganda because tourists include a lot of other destinations," said Ajarova.
She explained that a monitoring system has been instituted to check any negative drastic effect of the chopper on the chimpanzees, although the test flight showed there is none so far.
"There have been inquiries for quicker (transport) mean to the islands, this will also provide a chance for medical evacuation," said Ajarova.
Save