Lake Mburo: A destination for Uganda tours to domestic tourists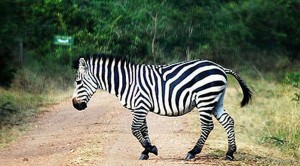 When the three-hour drive from Kampala to western Uganda ended, there was a pleasant reward. It was the endless dry land bathed by River Rwizi, which runs through many districts, including Mbarara, before it pours its water into Lake Mburo.
The lake is decorated with large game like this lone zebra crossing a road.
The lake is decorated with large herds of wild animals such as buffaloes that evoke awe and wonder in equal measure. Not far away, the crocodiles and hippos on the marshy edges of the lake seemed unbothered by intrusion.
As the sun prepares to go to bed, the shadows of the tall trees standing along the shores are falling on water. It looks like a timeless painting.
"Lake Mburo is a prime park close to Kampala and visitors can drive there for a day or weekend out," says Kadu Sebunya, the chief of party at USAID-Tourism for Biodiversity.
He said they are working with Africa Wildlife Foundation and the Uganda Wildlife Authority (UWA) to turn Lake Mburo into a top attraction for Ugandans.
"We have to increase the attractions at Lake Mburo in addition to the natural beauties to make it suitable to the local tourists," he explained.
Sebunya was recently speaking at Kiruhura during the launch of a four-year programme, "Tourism for Biodiversity," that will benefit five protected areas, including Mburo and Kalinzu in western Uganda.
Others are Budongo in mid-western Uganda, Murchison Falls National Park and Kidepo National Park in northern Uganda. The programme is funded by the US through USAID and implemented by the Africa Wildlife Foundation (AWF).
Lake Mburo is a protected area that was degazetted from 1,500 square kilometers to 260 square kilometers, leaving a lot of wildlife roaming on private land.
In addition to adding more value to the existing attractions and making it attractive to Ugandans, Kadu says land owners outside the Lake Mburo National Park will be assisted to benefit from wildlife through tourism.
Abiaz Rwamwiri, the communications officer at AWF, says tourism, if well-developed, could secure conservation of biodiversity and economic growth.
"If the economic value of healthy ecosystems and the services they provide benefit local resource users, then natural resource degradation will be mitigated," he says.
Raymond Engena, the director for tourism at UWA, says promotion of domestic and regional tourism would create stability in the tourism market.
Currently, 50 % of total visitation to the protected areas is foreigners, followed by Ugandan citizens (adults), who contribute 25% and Ugandan students sharing 25% of the leisure industry. He said expensive accommodation was putting off Ugandans intending to visit the parks.
Mburo's tourism still low
Lake Mburo, which contributes about 13% of the visitors to the protected area, is close to the highway to Bwindi, where there are gorillas and serves as a welcome break to travelers.
However, the tourism revenue at Lake Mburo is still low, meaning there is need to promote the tourism potential of the park so that it can pay for conservation.
The tourism numbers at Mburo have doubled in the last decade, but the park needs to change strategies in order to attract better paying visitors, Justus Tusubira, the conservation area manager for Mburo, adds.
He promised that tourists visiting Lake Mburo in the coming years will be spoilt for choice when it comes to tourism activities, products and experiences.
"Mburo has a diversity of species of birds and mammals," says Tusubira, adding that children coming with their parents to the park will be engaged in various activities.
Previously, Lake Mburo favoured transit visitors, particularly students on their way to Lake Katwe in Queen Elizabeth National Park in Kasese.
Other intending visitors to Lake Mburo were discouraged by accommodation, but private investors are moving in to rectify the problem.
Tusubira says accommodation is at 140 beds within and outside Lake Mburo National Park.
He adds that there are still opportunities for private investors to set up eco-lodges outside the park.
US Forest Service volunteers design Mburo trail
As part of the support by the US Agency of International Aid-Tourism for Biodiversity programme activities in Lake Mburo, US Forest Service team: Logan Wild, a civil engineer and Barth Ham berg, a landscape architect, spent two days (From January 29 to 31) at the lake mapping new trail networks.
The new network includes new and extension of existing networks drawn with the support of UWA field staff and USAID/Uganda-Tourism and Biodiversity programme in Lake Mburo.
Kigarama hill trail covering six kilometers will be on offer for the intending visitors who want to feel like conquerors by going up the highest elevated landscape at Mburo.
At the lowest point of Mburo is the lakeside trail with four kilometers that exposes visitors to wild beauties such as birds and aquatic animals.
In addition, the park visitor interpretation centre or Mburo trail will give visitors a choice of nature walk and wildlife encounters.
"The expanded trail network is one of the efforts to increase visitor experience and product diversification," says Rwamwiri, adding that this will increase visitor stay.
Mburo's poor roads still a challenge
Tusubira says the Kampala Highway has been improved, but the poor state of the roads from the highway leading to Lake Mburo remains a challenge.
Sebunya says they will engage the Government to overcome such barriers that are not only denying protected areas tourism revenue, but also undermine conservation.
As we left, the bumpy road from the heart of Mburo to Sanga located on the Kampala-Mbarara Highway was a sad reminder of how the country is lagging behind in terms of adding value to its wild beauties.
But I took away golden memories from Lake Mburo that will stay stuck on my mind for a long time.
Mburo has been branded "the whispers of the wild" meaning the country has more to offer and Lake Mburo is just the beginning of the journey into the wilderness.
Save