River Nile named among Africa's seven wonders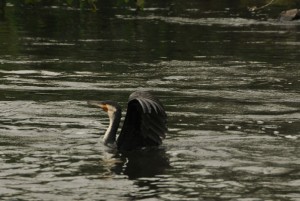 A duck swims on River Nile in Jinja recently. The declaration of the Source of the Nile as one of the seven wonders of Africa is expected to improve tourism in Uganda.
Uganda has once again received recognition from the international tourism community after the Source of the Nile was named among the seven natural wonders of Africa early this week.
The Seven Wonders of Africa Project was initiated in 2008 by Texas-based Dr Philip Imler with an aim of identifying seven natural wonders on the African continent and protect them.
"This is a great achievement to the country and with the aims of such an accolade, we should have a shared responsibility such that we can start the conservation from here," Ms Maria Mutagamba, the minister of tourism, wildlife and heritage, said yesterday.
The other natural wonders on the list include: Mt. Kilimanjaro (the tallest standing mountain in Africa), The Red Sea, Sahara Desert, Okavango Delta in Botswana, and the Serengeti migration for its famous migration of more than six million animals moving over 300 kilometres.
Ms. Maria Mutagamba added that with such an accolade, the central government would now move to take over the responsibility to manage the source of the Nile, taking it away from the local government authorities in Jinja.
This is under a new drafted policy dubbed "Sustainable Development Plan for the Source of the Nile" which is expected to be taken into effect in the 2013/2014 financial year.
Under the new policy, government will solely be responsible for managing all the activities carried out at the Source of the Nile.