Ruboni community camp for uganda cultural tourism
The rumbling rivers born by the glaciers from the snow on Mt. Rwenzori plunge into Ruboni located along the equator. The chilly conditions have created home to the rare three-horned chameleons and Rwenzori Turaco. The ecological treasure has been waiting to be tapped to create prosperity.
He has lived all his life in a village sitting on the slopes of Mt. Rwenzori. Unlike many residents of Ruboni village in Kasese, Ferdinand Irumba knows the beauty of the mountains.
Irumba is also staking everything he has to turn his village into a "paradise" for tourists and use the proceeds to improve the quality of life in Ruboni. His sweat has started paying off.
At Ruboni, the residents, led by Irumba, have set up accommodation facilities. They also prepare meals for their visitors who either go there for bird watching or hiking along the slopes of Mt. Rwenzori. When the guests retire in the evenings, the residents lavishly entertain them with traditional dances and folk stories. The returns from tourism,
Irumba believes are short of a miracle. "We have started earning money that would have remained a dream for us for a long time," says Irumba. This has come out of creation of markets for fruits, food stuffs and handicrafts.
Other benefits include employment as guides, cooks, handicraft makers and cultural performers in dance and drama. "Such people on a good day earn up to sh20, 000," says Irumba, adding that this is good money given that most people live on less than $1 (sh2, 500) per day.
In addition to this, the local communities have been given skills in modern agriculture. This, according to Irumba, has helped improve productivity and soil conservation. Even when wild animals forage on their crops, the communities do not get up in arms because the animals are seen as money spinners.
How Ruboni woke up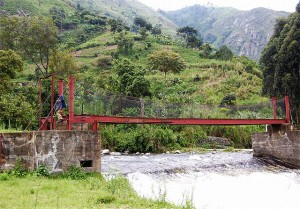 A man crossing River Mubuku in Maliba sub-county near Ruboni, Residents have united to benefit from the beauty of their surroundings
Not so long ago, residents of Ruboni took matters in their own hands. Instead of accepting a small part of the tourism pie and leaving the rest to the big private sector players, Irumba and his colleagues bought land to set up a camp."There was no income from tourism before we started the camp," says Irumba, adding that despite the local residents living in the vicinity of the world famous Rwenzori National Park, they thought the park existed at their expense.
Irumba says as the community was plotting to get the initiative off the ground, the Sustainable Tourism in the Albertine Rift (STAR-Uganda), an initiative funded by USAID, supported them to get closer to the dream.
"The more time we spend with the tourists, the more we earn," says Irumba, pointing out that they have products, including accommodation that is cheaper compared to other places, which has helped them attract both local and foreign tourists.
Previously, Ruboni had only ecological richness, and because the local people did not have capacity to drive enterprises that create wealth in eco-friendly ways, they were being left behind. Because of this, Ruboni had become a poverty haven and environmental destruction was a way of life.
"The community has started understanding that conservation is essential to their lives, but returns are not yet enough to get rid of poverty, which is still pushing people into chopping of trees," says Irumba, adding that residents have started planting trees under "Global Benefits", which is promoted by Eco-trust.
Healing pitfalls of tourism
As much as benefits of tourism are trickling into Ruboni, most of the places gifted with wild beauties are still starved of opportunities to reap money from the wanderlust.
This is partly blamed on conservation, which locks away the land from other uses such as agriculture. Abiaz Rwamwiri, a communications officer at Africa Wildlife Foundation, says tourism, which is one of the fastest growing industries globally, creates a multiplier effect within the economy, and that if streamlined, it could reduce poverty. "The trickle-down effect of tourism can never be compared to anything else," says Abiaz Rwamwiri.
"A tourist who enters Uganda pays $50 at the airport, uses a taxi of up to 70,000 (direct cash to one family of about five members), goes to a hotel and is served by over 10 people (from the receptionist, manager, to the room attendant. Each of these people has about five dependents) from the hotel, he is taken by the guide to the park, the ranger at the UWA gate also gets paid and the tourist pays entrance fees.
It is difficult to find such a chain in any other sector." Eliminating poverty from villages around protected areas Rwamwiri says communities need to be supported to benefit. "If there was a policy for the eco-lodges to purchase the food stuffs locally, poverty would be history," says Rwamwiri, adding that there is no way a local person selling food to a hotel and earning sh20,000 every week is going to suffer poverty.
Rwamwiri added that government policies have failed to protect the communities, noting that many of handicrafts in curio shops and lodges come from Kenya. He also blamed the communities for the poor attitude and lack of creativity.
"There is no business that is going to give people handouts. We must tap into the business in order to benefit." Even when Uganda's share of tourism has increased from $662m in 2010/2011 to $805m in 2011/2012, Rwamwiri says it is disappointing that tourist's return to their countries with 60% of the money unspent.
"Ugandans should be creative in order to entice tourists to spend," he says. The principle wildlife officer in the tourism ministry, Akankwasa Barirega, says the Uganda Wildlife Authority gives 20% of the revenue from protected areas to communities living around the areas. He adds that with the increasing tourism revenue, the share for the communities is also increasing and contributing to poverty alleviation around the protected areas.
Akankwasa pointed out that some districts such as Kisoro have taken strides by appointing district tourism officers to take a bigger slice of the cake.
Ruboni, according to Rwamwiri, stands out as one of the examples showing how communities can be supported to benefit from the protected areas in their neighborhood. He points out that cultural tourism should be tapped since there are practices and dances that are unique to different tribes across the country.