Rwanda elephants not endangered, says Wildlife Conservation Society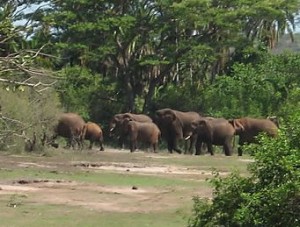 Rwanda has not recorded a decline of elephants in the past few years, Telesphore Ngoga, the acting Conservation Division Manager at the Rwanda Development Board (RDB), has said.
Ngoga was reacting to a study published in the scientific journal by the Wildlife Conservation Society (WCS), recently. The report says elephant numbers have decreased by 62 per cent across Central Africa over the last 10 years.
It was released during the 2013 Convention on International Trade in Endangered Species of Wild Fauna and Flora, currently underway in Bangkok, Thailand.
"We haven't encountered any major decline in the last 10 years, instead the population of elephants is increasing. In Akagera National Park, we have about 100 elephants, which live in protected areas," Ngoga said.
"We no longer have challenges of poaching in Rwanda, although we lost five elephants in 2011 and 2012, two were killed by poachers, one was electrocuted by the park's fence while the rest died of natural death," he added.
Ngoga, however, said they have put in place an anti-poaching team that oversees wildlife monitoring patrols in the parks.
"We are planning a census for wild animals soon and that is when we will be able to determine the exact number of elephants in the country," he said.
Findings from the study indicate that large areas in Central African countries, which were elephant habitats 10 years ago, now have few of the animals remaining.
The survey was carried out in forests in Cameroon, Central African Republic, DR Congo, Gabon and Congo Brazzaville.
In Rwanda, elephants are found in Akagera National Park in Eastern Province and Volcanoes National Park in Northern Province.
Call for conservation
Prosper Uwingeli, the chief warden at Volcanoes National Park, said the number of elephants in the park is close to 50.
"It is very difficult to know the exact figure, because they move around Greater Virunga Massif. We haven't seen cases of elephant poaching in Volcanoes National Park," he said.
The Virunga Massif cuts across three countries; Rwanda, Uganda and DR Congo. The study includes the work of more than 60 scientists between 2002 and 2011.
"Saving the species requires a coordinated global effort in the countries where elephants occur, along the ivory smuggling routes, and at the final destination in the Far East. We don't have much time before elephants are gone," says the report's lead author, Dr Fiona Maisels from WCS.
Conservationists called for immediate action to protect the remaining elephant populations.
Last year, Rwanda's tourism sector generated $281.8m (about Rwf178b) compared to $251.3m (about Rwf159b) in 2011, according to the 2012 Tourism Report.