Seeing lions on Uganda tours is a prized sight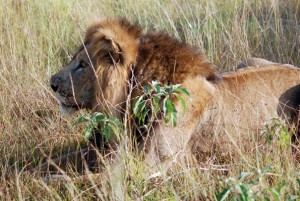 The lion gazes at the tourists in Queen Elizabeth National Park. The writer was lucky to see the pride as they are not easy to find. In splendor the king of the jungle lay, the calmness he exuded would easily make one forget that he is the most feared predator. It was great watching the lion and the at the same time watching birds
Seeing the prized lions in Queen Elizabeth National Park is the anticipation of any tourist. Many will tell you that they have visited five times and not seen them, but on my second visit, I was able to see not just one, but a pride, perhaps a family.
There were the two females on the side and then a couple enjoying an early morning bask in the sun as the skies opened. This was the highlight of my weekend in the wild. You could wonder why the lion is so treasured, but any tourist will tell you that it all lies in its magnificence as a symbol of courage and might.
Excited local tourists kept clicking away on their digital cameras at the sight of the peaceful and proud lions who were taking it slow in the green savannah grass near a thicket as they enjoyed the last pieces of their breakfast, most likely from a previous night's hunt.
A first-time to be within a meter of these fierce animals was an experience that came with mixed feelings, of tension and excitement, before our guide, Lawrence of Nature Adventure Tours &Safaris Ltd, put our fears at ease.
"They are not dangerous at all unless provoked," he comforted the faint-hearted tourists. "They are enjoying their meal and they are used to tourists coming around, so be strong and enjoy your viewing," he added. "The female does the hunting as the male and the little ones stay back to wait for the meal," S.K, a wildlife enthusiast volunteered.
"So when she hunts and returns like it is in the traditional African setting, she will serve her husband then the children and eat last," he added, something we had a chance to prove during the time we viewed the pride in nature's splendor.
Very few moments beat the experience of being in the middle of the most popular national park in the pearl of Africa, where Africa's, and truly Uganda spirit lives on, watching the animal whose sight startles just about any animal.
This partly explains why the lion is part of the enchantments on this voyage of discovery. Nature's wonder in this park extends to vast open grasslands, elephants that gigantically saunter through them, with gait.
You will find Queen Elizabeth along Mpondwe Road near Fort Portal, 38 kilometers before the Congo border and at the backdrop of the Mountain Rwenzori ranges.
According to historical records, the park was founded in 1952 as Kazinga National Park, and renamed two years later to commemorate Queen Elizabeth II's visit.
From the road, as we drive through the extensive park, Lawrence showed us the point at which the Queen of England, Queen Elizabeth II whose full name is Elizabeth Alexandra Mary, stood, to honour the park being names after her.