Tranquility, beauty on unique Wild waters' Lodge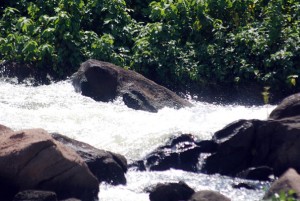 Haven on the Vic. Splashing in the waters of Lake Victoria are so much fun especially if you are going to take a break in the confines of a comfortable lodge like Wild waters' Lodge. When the writer visited the getaway he wished he would stay there for eternity.
I am a fan of the Life's Good (LG) products simply because unlike other international brands it attracts you by its name. Wild waters live up its name too. It is a beauty nestled in scenic white waters, and most spectacular of these being the Kalagala Falls that get their volumes and force from the mighty River Nile.
Wild waters is so uniquely placed in the middle of Lake Victoria, in an enclave of trees and shrubs which thicken and give you the feeling you are at home with nature at this solid rock peninsula.
It gives you the true feeling of getting out of town, with no dust, no cars or boda bodas (motorcycles) hooting, because it is in the middle of Africa's gigantic fresh water body.
A work of art
The closest to clamor you will get is water hitting against the rocks that marvelously offer a sight to behold and one that is truly relaxing.
It is the place you want to go to "wash" your mind and soul of all life's dusty moments and let yourself enjoy tranquility in this hidden haven.
The proprietor, Gav Fahey took good two and half years to creatively erect this beauty standing in the midst of a lake.
He put his artistic juices to good use with wood and concrete and allowed the pristine Riverine environment stand side by side with his creations.
The architectural genius is partly visible, largely covered in green, as you take your five-minute boat cruise from the offshore to the lodge which opens up in grass-thatched cover of the reception, at the docking area, where someone will be waiting to receive you.
The hospitality starts here when the lady or gentleman asks to help you with your luggage as another offers you a welcome glass of fresh juice.
There is a marked walk way that leads you up the reception area which has a dining area from where you can watch the wild waters, then a swimming pool that is fed with waters of racing rapids, relaxing area besides it and a common area.
Perfect for some quality time
The common area has a library, a breakfast lounge, surfing lounge and beautiful decoration within head-level sight and then overhead decorations like chimes and roofing architecture.
Just after the library is where the wooden bridge starts, connecting to the different points of the 10 timber-floor rooms and wooden walkways that connect the rooms from the bridge.
From your rooms you can enjoy solitude as you take in beautiful views of the shrubs underneath and overlooking the decks of the rooms and the falls on the east end of the island as well as Nile's wild and thunderous rapids.
At your wooden balcony you can enjoy a private shower in bathtubs of cold and warm water, alone or with your loved one, without fear of snooping eyes. Or you could do this within the fitted shower that is made of stone and steel showers. The sinks are artistically made with bowels made of clay, stone and then jars that will remind you of colonial times.