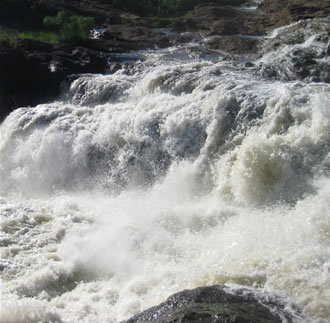 Visit Murchison falls national park for wildlife tours
The best athletes from the Inter-Force Games were given a treat by the Uganda Wildlife Authority
It's a moment many yearn to see happen in their lives. Witnessing in sheer wonder as water gushes between rocks at the world's most powerful falls.
This is what the eyes of the best athletes from the ninth edition of the 2011 Uganda Inter-force Games were treated to at the largest national park in the country – the Murchison Falls National Park.
This unique opportunity was a promise fulfilled by the Uganda Wildlife Authority (UWA). Despite the fact that it was delayed, it only remained a perfect way to start the year for the sportsmen.
"This has been nice and impressive for me," Ali Ngaimoko, a sprinter from the Uganda Police Force said as the 30-man contingent returned to Kampala on Saturday.
"Uganda is gifted by nature," Uganda Police Defence Forces (UPDF) best handball player Moses Akena said. His experience would differ much from that of the best shooting players Thomas Dilla (UPDF) and Norah Mbubi (UWA).
For a journey that stretches to about 380km from Kampala on road, to covering another 66km during game rides and finally a 17km boat ride upstream the Victoria Nile, it's all quite breath taking but worth travelling. From the baboons, hippos, water bucks, giraffes, elephants to the numerous crocodiles and different bird species, some felt like staying longer than the three days.